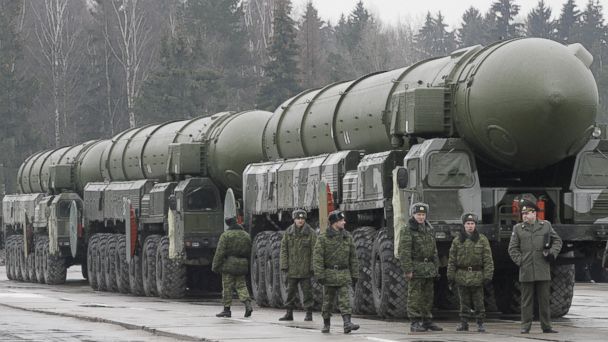 Last week TASS reported Russia's western-most ICBM division will be rearmed with the RS-24 Yars missile system. Yars is a MIRV-equipped, thermonuclear, intercontinental ballistic missile that can reportedly carry up to 10 independently targetable warheads. The ICBM RS-24 Yars constitutes the backbone of Russia's strategic missile force.
"The westernmost strategic missile force division in the Tver region will soon begin to be rearmed with the missile system Yars. It will be a sixth strategic missile division where the newest mobile ground-based missile complexes will replace the intercontinental ballistic missile Topol," Sergey Karakayev, the commander of Russia's Strategic Missile Force told the news agency.
The Russians claim the deployment is in response to NATO installing a US anti-missile system in Eastern Europe in violation of previous Russian-US arms treaties. The United States has made the outrageous claim its missile system is designed to respond to threats from Iran.
"Now, after the deployment of those anti-missile system elements, we'll be forced to think about neutralizing developing threats to Russia's security," Russian President Vladimir Putin said in May.
Putin added that the US anti-missile systems currently in place in Romania and soon in Poland can be easily be repurposed to fire short and mid-range missiles.
Russia announced it would modernize a launch detection system in response to the threat along its border. It has also discussed stationing its state-of-the art Iskander missiles at its westernmost Baltic outpost of Kaliningrad which borders NATO members Poland and Lithuania. The Iskander travels at hypersonic speed and is capable of evading anti-ballistic missiles.
In addition to missiles and nuclear warheads, NATO and Russia have engaged in massive war games this year. NATO's Anakonda 2016 exercise involved more than 30,000 troops, about half of them Americans, and thousands of combat vehicles from 24 nations. …